Metrolina Carts is here to answer all your golf cart questions including how to make your cart street legal, golf cart ownership and maintenance, documentation, and more.
If you don't find an answer to your question, give us a call today at 803-329-2278.
Want to ask us your question in person? We're located at 1071 Albright Rd. in Rock Hill, SC.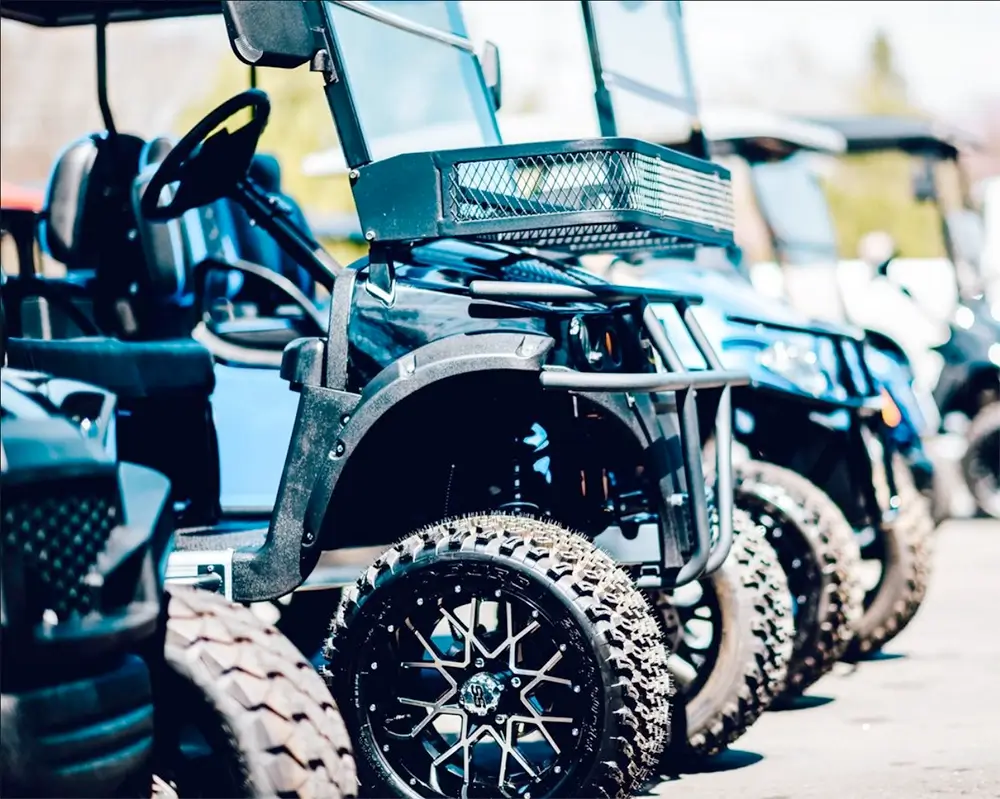 Frequently Asked Questions
Make Your Golf Cart Street Legal
Metrolina Carts is here to answer all your golf cart questions about how to make your cart street legal.
Golf Carts are classified as Low-Speed Vehicles (LSVs). Regarding their use in North Carolina on the street, LSVs…
Can be operated only on streets and highways where the posted speed limit is 35 mph or less.
May cross a road or street at an intersection with a posted speed higher than 35 mph.
Must be equipped with headlamps, stop lamps, turn signal lamps, tail lamps, reflex reflectors, parking brakes, rearview mirrors, windshields, windshield wipers, speedometer, seat belts and a vehicle identification number.
Must be inspected and photographed by the N.C. Division of Motor Vehicles.
You can contact NC DMV by 
clicking here
 for more details.
In South Carolina, if you have a valid driver's license, you may drive a golf cart during the day within four miles of your home or business and on secondary highways. To do so however, you must have a golf cart permit, which you can purchase at any SC DMV branch (click here to find a DMV branch near you). To get a golf cart permit, do all of the following:
Complete the Golf Cart Permit Registration (SCDMV Form GC-2), which you can download by clicking here.
Provide proof of insurance for the golf cart.
Provide your valid driver's license number.
Pay $5
You must replace your golf cart permit every five years or if you change your address.
NHTSA Low-Speed Vehicle Information
SUMMARY: This final rule responds to a growing public interest in using golf cars(1) and other similar-sized, 4-wheeled vehicles to make short trips for shopping, social and recreational purposes primarily within retirement or other planned communities with golf courses. These passenger-carrying vehicles, although low-speed, offer a variety of advantages, including comparatively low-cost and energy-efficient mobility. Further, many of these vehicles are electric-powered. The use of these vehicles, instead of larger, gasoline-powered vehicles like passenger cars, provides quieter transportation that does not pollute the air of the communities in which they are operated.

Currently, there is a growing conflict between state and local laws, on the one hand, and Federal law, on the other, in the treatment of these small vehicles. That conflict unnecessarily restricts the ability of vehicle manufacturers to produce and sell, and the ability of consumers to purchase, these vehicles. In recent years, a growing number of states from California to Florida have passed legislation authorizing their local jurisdictions to permit general on-road use of "golf carts," subject to speed and/or operational limitations. A majority of those states condition such broad use upon the vehicles' having specified safety equipment. Further, some of these states have opened the way for the use of vehicles that are faster than almost all golf cars. Most conventional golf cars, as originally manufactured, have a top speed of less than 15 miles per hour. These states have either redefined "golf carts" to include vehicles designed to achieve up to 25 miles per hour or have established a new class of vehicles, "neighborhood electric vehicles," also defined as capable of achieving 25 miles per hour.

Under current NHTSA interpretations and regulations, so long as golf cars and other similar vehicles are incapable of exceeding 20 miles per hour, they are subject to only state and local requirements regarding safety equipment. However, if these vehicles are originally manufactured so that they can go faster than 20 miles per hour, they are treated as motor vehicles under Federal law. Similarly, if golf cars are modified after original manufacture so that they can achieve 20 or more miles per hour, they too are treated as motor vehicles. Further, as motor vehicles, they are currently classified as passenger cars and must comply with the Federal motor vehicle safety standards for that vehicle type. This creates a conflict with the state and local laws because compliance with the full range of those standards is not feasible for these small vehicles.
North Carolina DMV Documents
South Carolina DMV Documents